The easiest way to upload your images is via our website, which will show you a visual preview of your print. Please read through the information below to familiarise yourself with our artwork specifications. Here is a quick video showing size modes and how to price up your giclee prints.
The maximum upload size for a single image is 225 MB, which allows you a maximum pixel dimension of 30,000 in width or height, files exceeding this number of pixels will be rejected by our online system. In most scenarios you should be able to get your files below this size (and we highly recommend using our uploader), but you can send us images using alternate methods, as described below.
Quick tip: Use our action shortcut art.new to start the upload process for archival pigment prints.

Artwork bleed
Bleed is printing (or whitespace) that goes beyond the edge of where the sheet will be trimmed. In most cases you will not need to pay too much attention to these values as we show you a visual preview of how your artwork is trimmed.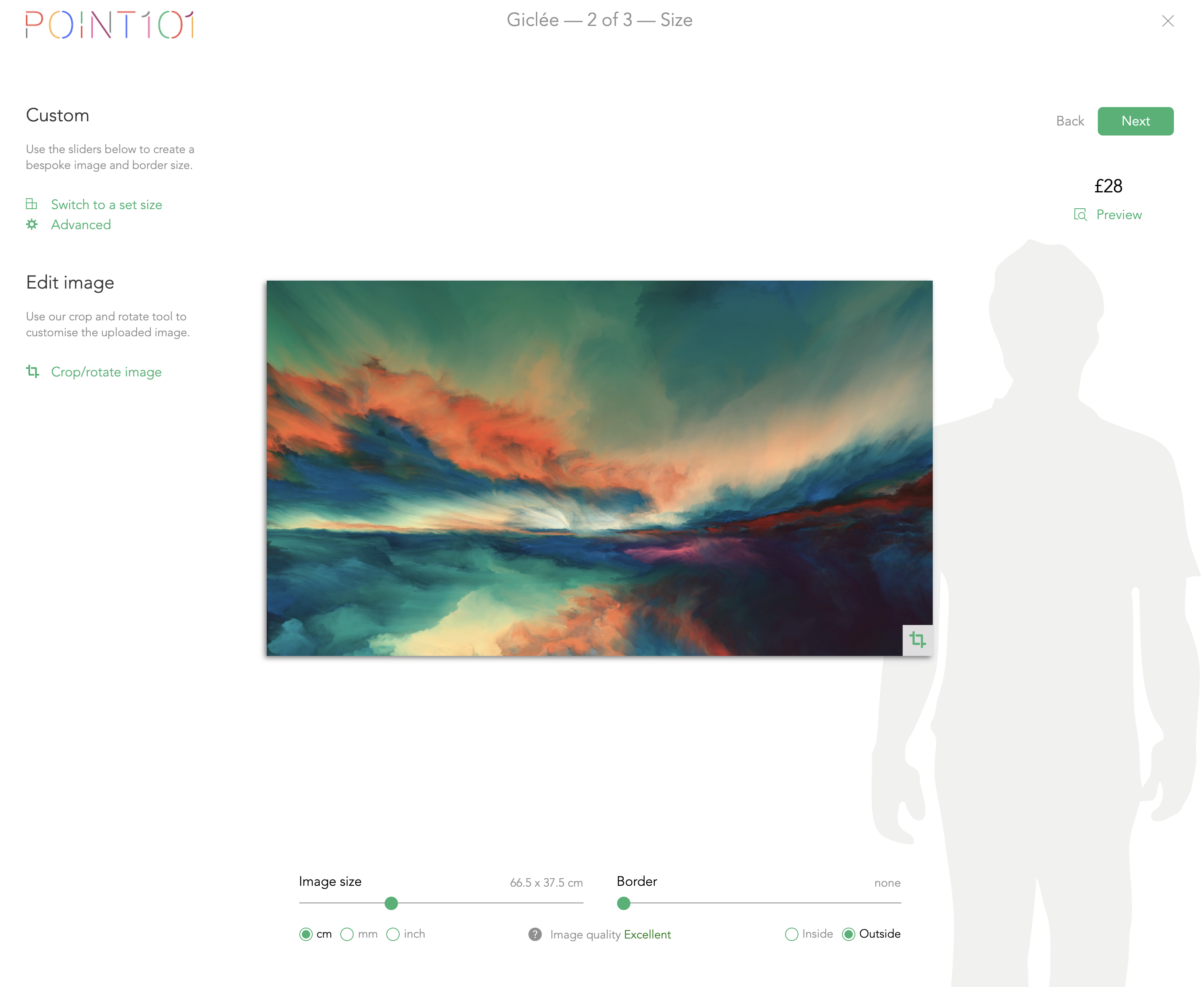 Giclee prints require no bleed, while most of our other products only require a few mm. If you're printing on canvas and select image wrap, you may want to prepare your files to allow for the extra bleed required on the edges of the frame.

• Giclee prints – No bleed required (please allow a tolerance of up to 2mm less than your ordered size in width and height as all prints are hand cut).
• Canvas prints – 4mm bleed for white edges or 51mm on each edge for image wraps
• Perspex mounts – 5mm on each edge
• MDF mounts – 5mm on each edge
• Di-Bond mounts – 5mm on each edge
• Photo Blocks – 2mm on each edge
• Gatorboard mounts – No bleed required
• Frames prints – If you do not add a mount, 5mm of your image will be hidden underneath the frame opening (this is called the frame rebate). If you choose a mount, at least 5mm will be hidden underneath the mount opening. Additionally, if your image is panoramic, you may lose more of your image (sides of the shorter edge) under the mount, but this will all show in our online preview when you select a mount.
Image colour mode and file type
We accept both JPEG and TIFF formats, but recommend that you save your file as a JPEG in highest quality as there's no difference in print quality between this and a TIFF and will shorten the upload time. Quality loss only occurs if you re-edit and save a JPEG rather than editing the original file and re-outputting as a JPEG.
You should save your image:
As a JPEG (at high quality) or TIFF (with LZW compression)
In AdobeRGB, sRGB colour mode or Grayscale is acceptable for B&W images
In 8-bit file format
At 300ppi (pixels per inch / dots per inch)
Notes on resolution:
If you're sending us files as compressed TIFFs you can use a 240ppi resolution (we only require the 300ppi for JPEG as this maintains the correct print size but does not influence print quality).
If you are printing computer-generated images such as vector or line art it is better to send us your image at 360ppi resolution to avoid interpolation that can cause unwanted effects such as moiré pattern.
Notes on sharpening:
We do not apply any sharpening by default so artwork should be pre-sharpened in your image editing software to your preference.
We highly recommend using our uploader to preview and order your prints. Find the relevant product and click upload now. However, if you're sending us artwork for sizes or a product not listed or would prefer to transfer your files via a file transfer service, please follow the instructions below:


Alternate methods - send us your images using WeTransfer (or similar)
To send us your file(s) via We Transfer, visit http://point101.wetransfer.com and follow the instructions to send us your files and include your order number (if you already have one) or any relevant details. Alternatively you can use your favourite file transfer tool - such as Dropbox or Google Drive.
If you're not using our upload system, make sure you save your file at the size you'd like us to print it at with the relevant bleed. Our prices are based on print-ready images, but we can set up files that need extra work for £3 - £5 per image. Make sure your files are print ready by following the instructions above or contact us for more information.
If you require more information please do not hesitate to contact us.